New Jeep 2021 Jeep Wrangler vs 2022 Toyota 4Runner for Sale in San Antonio, TX
2021 Jeep Wrangler vs 2022 Toyota 4Runner


View Inventory
The Wrangler is one of the most iconic vehicles ever made. The 2021 Jeep Wrangler available at Ancira Jeep in San Antonio continues the fourth Wrangler generation with some exciting updates. These include 80th Anniversary and Islander special editions, a plug-in hybrid edition called the 4xe, a performance edition labelled the Rubicon 392 and an Xtreme Recon option that is aimed squarely at Ford and its new Bronco. The Wrangler really is a one-of-a-kind vehicle, but there have been many attempts to carve out a niche in its market share. One of those is the aforementioned Bronco. Another is the 4Runner from Toyota, which just released the 2022 edition of its vehicle. With that in mind, join us we compare the 2021 Jeep Wrangler vs 2022 Toyota 4Runner and see how they measure up.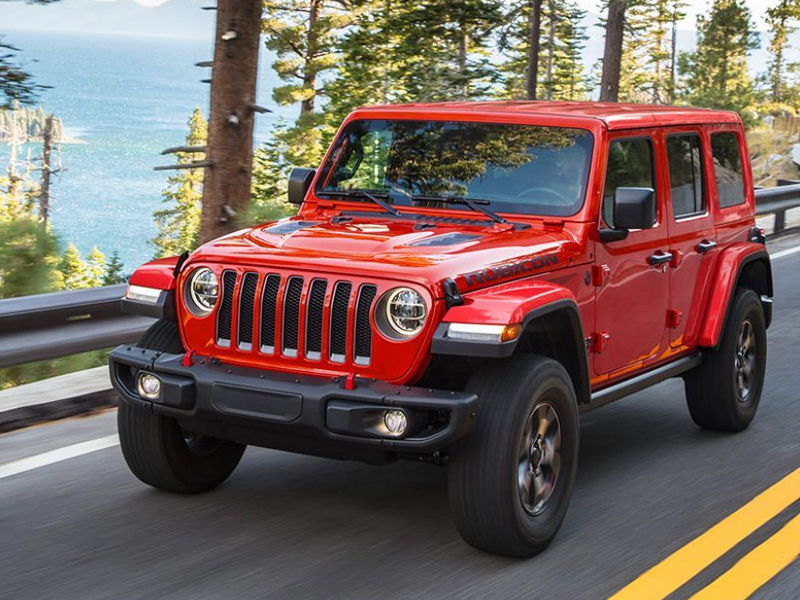 Exterior – Jeep Dealer serving San Antonio TX
Drivers in San Antonio who want a Wrangler have two core options. The standard Wrangler has the classic two-door body style, and the Unlimited is the larger four-door model. The standard model has a 96.8-inch wheelbase and measures 166.8 inches overall, which is almost 14 feet. The Unlimited model, on the other hand, has a 118.4-inch wheelbase and measures 188.4 inches overall, which is 15.7 feet. The 2022 Toyota 4Runner is only available in a four-door body style. It has a 109.8-inch wheelbase and measures 190.7 inches overall, which is approximately 15.9 feet. The 4Runner provides 9.0 inches of minimum ground clearance. Minimum ground clearance with the Wrangler is at least 9.7 inches, and even more clearance is available via various options. Perhaps the most significant difference between these vehicles is that the top and doors on the Wrangler are removable. There are also various tops to choose from, and this flexibility is not something Toyota has offered with the 4Runner in many years.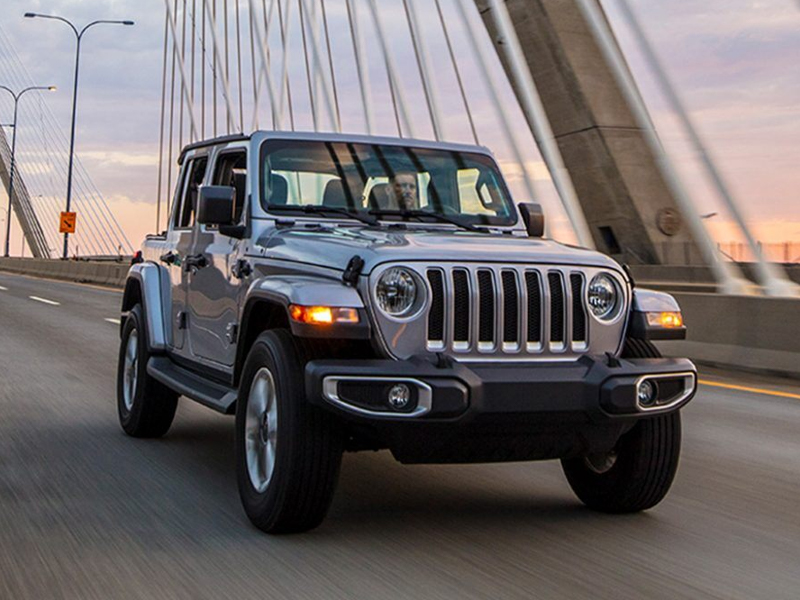 Seating capacity for the 2021 Jeep Wrangler depends on which body style you choose. The standard model can seat up to four passengers whereas the Unlimited model can seat up to five. The 2022 Toyota 4Runner comes standard in a five-passenger configuration. However, certain 4Runner trim levels give you the option of a third row that increases passenger capacity to seven. Front headroom in the Wrangler is 42.6 inches. Front legroom is 41.2 inches. While the 4Runner offers similar front legroom—41.7 inches—a notable difference is that it affords significantly less headroom at 38.6 inches. The two-door Wrangler provides 35.7 inches of rear legroom and 31.7 cubic feet of dedicated cargo space. The four-door Wrangler provides 38.3 inches and 31.7 cubic feet. The 4Runner affords just 32.9 inches but 47.2 cubic feet, which is among the best in class. However, if you opt for the third row of seating, that is reduced to about 9 cubic feet, and the third row affords just 29.3 inches of legroom.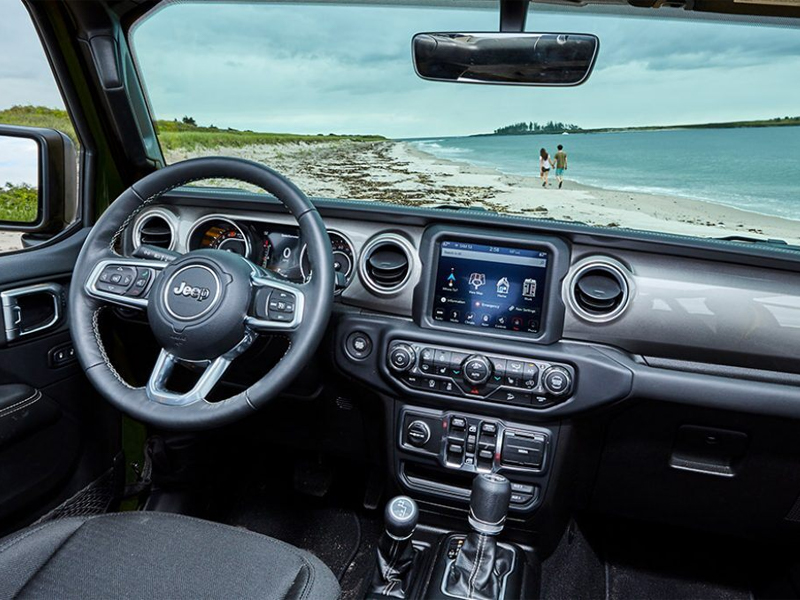 Powertrain – Jeep Dealership in San Antonio TX
When it comes to powertrains, a 2021 Jeep Wrangler vs 2022 Toyota 4Runner comparison is interesting in that these automakers take very different approaches. Toyota offers but a single powertrain, which mates a five-speed automatic transmission to a 4.0-liter V6 engine rated for 270 horsepower and 278 pound-feet of torque. The base Wrangler has a 3.6-liter V6 under the hood—285 hp and 260 lb.-ft.—and gives you the option of six-speed manual or eight-speed automatic transmission. You also have the option of a 2.0-liter turbo four-cylinder—270 hp and 295 lb.-ft.—and a 3.0-liter turbo diesel: 260 hp and 442 lb.-ft. There is also the 470-hp Rubicon 392 and 375-hp PHEV 4xe.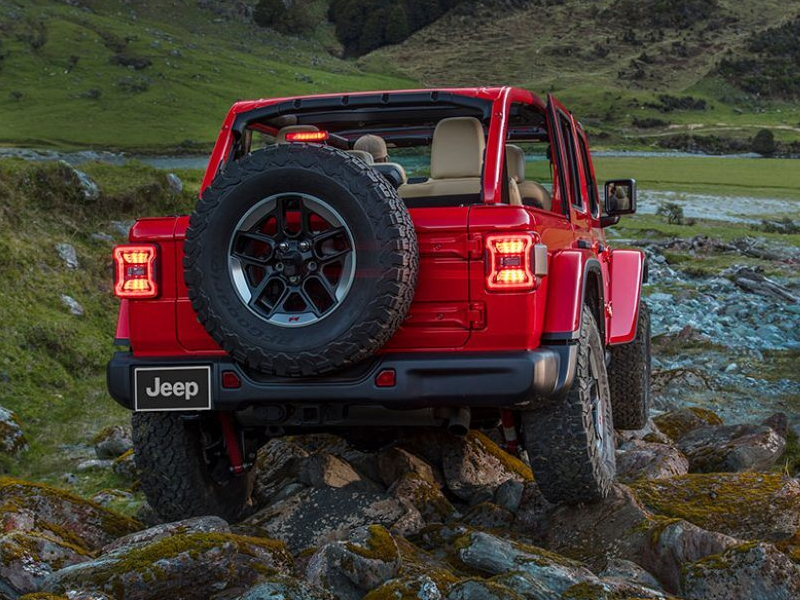 Technologies – 2021 Jeep Wrangler dealer
You will find similar technologies on the 2021 Jeep Wrangler and 2022 Toyota 4Runner. One area where many critics agree that Jeep has a clear advantage is the Uconnect infotainment system. Entune is a solid option but just not as robust and user-friendly as Uconnect. As for standard equipment, it is important to be mindful how Jeep approaches its trim lineup. The Sport, for instance, is intended to deliver a stripped-down off-road experience, and so only the basics are included, such as a 5-inch touchscreen and a rearview camera system. Larger touchscreens and driver-assistance technologies are available through the upper trim levels. Toyota includes these items as standard equipment, but it also offers a base model that is significantly more expensive than the base Wrangler Sport.
Ancira Jeep has an amazing selection of Wrangler models, including both body styles, all trim levels and options and the special editions and variants. You can test-drive them in San Antonio at our location without an appointment. If you have any questions, we can answer them via text or email. Our team is also available via live chat on our website, and our site can help you research the Wrangler, compare trim levels and options, get preapproved for an auto loan, value your trade-in and much more!