New Dodge 2022 Dodge Challenger in San Antonio TX for Sale in San Antonio, TX
2022 Dodge Challenger in San Antonio TX


View Inventory
We're just now getting our first glances at the 2022 Dodge Challenger in San Antonio, and the verdict so far is that this is so far the most awesome specimen of Challenger that Dodge ever rolled off an assembly line. There's more choice of badging, accents, and engines than ever before, and that's saying a lot for a model that has such a rich history as this one. Ancira Dodge previews this model today for all our loyal customers. Like the Challenger, we're serving San Antonio New Braunfels Boerne Castroville area buyers with an unmatched experience. If you love the Challenger, you're going to love shopping with us. We really put this model on a pedestal each year, and that's exactly where a vehicle of this magnitude belongs.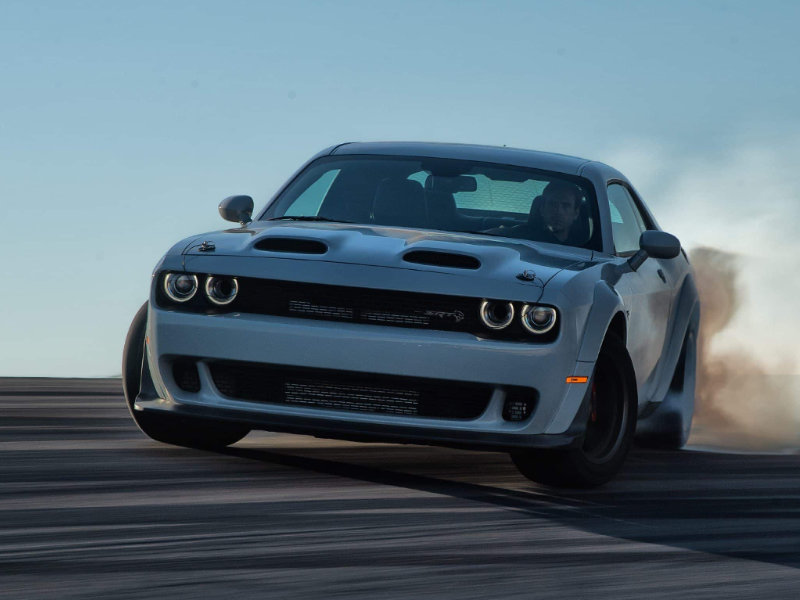 Exterior – Dodge Dealer serving San Antonio TX
The Challenger's look makes short work of the competition. The widebody style beckons back to muscle car icons of the past, most notably the Challenger itself. It changes each year, lines are changed up, the end might become a little shorter, but it always has that same gritty grin that makes people fall in love at first rumble. Your exteriors differ by trim. Choose from the SXT, GT, R/T, R/T Scat Pack, or SRT Hellcat to customize your Challenger just the right way. The base model features 18-inch wheels, while the GT kicks it up to 20-inch rims. A new functional hood scoop makes first appearance on the GT, so you don't have to go far into the trim lineup to get something that looks track-ready. The SRT Hellcat Redeye gets exclusive badging, and the SRT Super Stock roams the earth with Nitto street-legal drag tires. If you want wide-body style, be sure to ask which trims are wide-body friendly.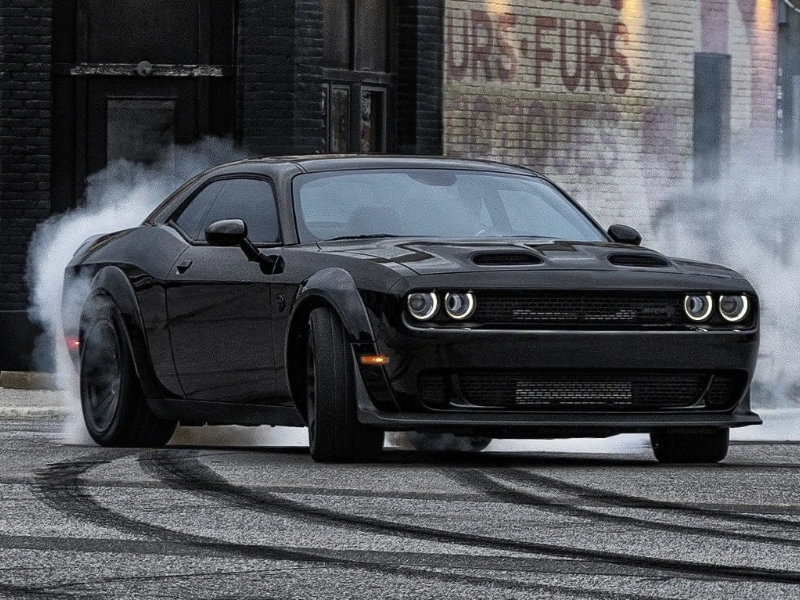 The 2022 Dodge Challenger is serving San Antonio New Braunfels Boerne Castroville with a racy and track-ready interior. It'll get you in the mood to drive. Your first trims – like the SXT and GT – feature cloth seating, power adjustable driver's seat, and paddle shifters (GT trim). Go deeper into the interior of the 2022 Dodge Challenger in San Antonio and you'll find SRT interior badging, leather seating, heated and ventilated seats, and an 18-speaker Harman Kardon audio system. You can really enjoy a day of thundering bass when you opt for the later trims. The interior of the 2022 Dodge Challenger is about crafting something that transcends mere "get-there-itis." When you're in a Challenger, you might just want to skip your destination and keep going.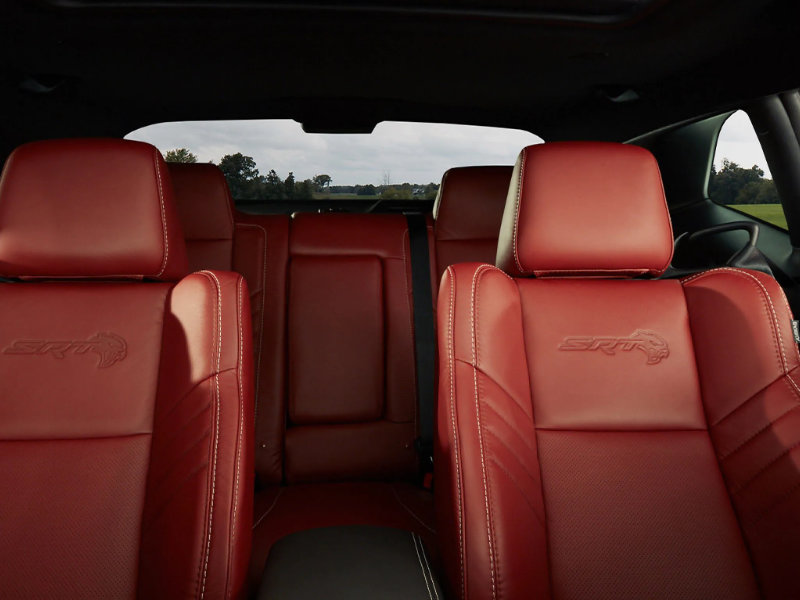 Dodge Challenger Mechanical specs
The standard 8-speed automatic transmission is equipped from the base model on, meaning you have precise handling and control from the gates. Advanced trims like the R/T Scat Pack get features like Brembo performance brakes and customized drive modes. Then there's the SRT Hellcat Redeye's SRT Power Chiller engine cooling system.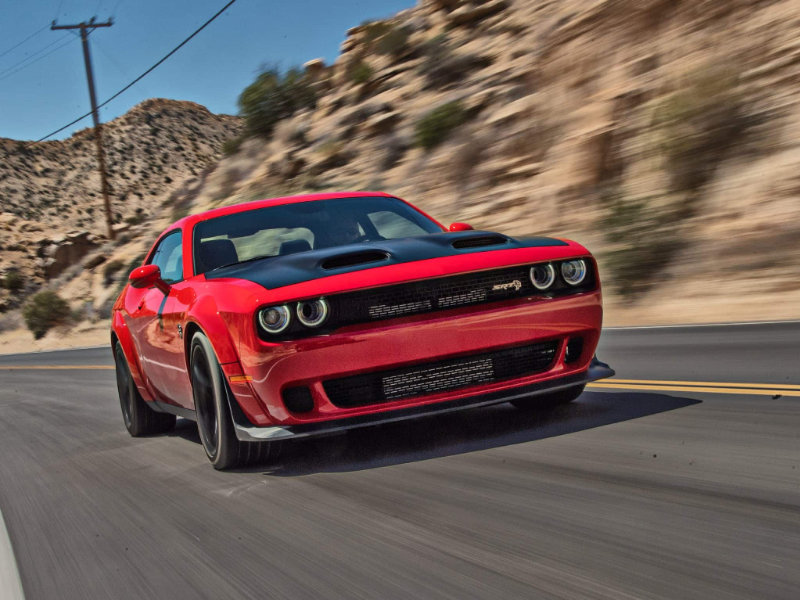 Powertrain – Dodge Dealership in San Antonio TX
The strongest powertrain is found on the SRT Super Stock edition, a major accomplishment even for the Challenger. The 6.2L V8 engine is rated at 807 horsepower and 707 lb-ft of torque. When your model goes up that high, you can't really lose with any other trim, either. The SRT Hellcat Redeye is rated at 797 horsepower and 707 lb-ft of torque, an SRT Hellcat nets you 717 horsepower and 656 lb-ft of torque, and the R/T Scat Pack is good for 485 horsepower and 575 lb-ft of torque. Even your base model Challenger grabs 303 horsepower and 268 lb-ft of torque.
Safety – 2022 Dodge Challenger dealer
The newer infotainment system this year starts off as a 7-inch model, but you can grab an 8.4 inch infotainment system to increase your vibrancy on camera views. You've got surround view cameras to monitor any "track" you choose to dominate. All but the base model get rear parking sensors, launch control, forward collision warning, and blind spot monitor (when purchased in a package). Mix and match your must-have safety components into a Challenger that keeps you safe in all conditions. You'll always have peace of mind when you're out there racing past the entire world.
Call or stop by Ancira Dodge to test drive or preview the 2022 Dodge Challenger in San Antonio. We'll have your favorite trim ready for a full tour and test drive.
You can call the 2022 Dodge Challenger a pony car, muscle car, or two-door coupe. Whatever you call it, it's the very definition of high-performance dominance in its class. You'll have a wide variety of 2022 Dodge Challenger trim levels in San Antonio to choose from, each of them explained here for your benefit. These brief introductions to trims like the SXT and SRT Super Stock are your gateway to otherworldly performance this year. What's the Challenger serving San Antonio New Braunfels Boerne Castroville drivers this year?
When you see that straight-edged grille and dual LED headlamps before you, you'll know an instant classic is at your fingertips. The 2022 Dodge Challenger makes driving a hobby, not a chore.
SXT Trim
Not many high-performance models start at around $30,000, but the SXT is the base model among your trim levels. It's meant to give everyone the chance to sample the Challenger's unique performance and charming good looks. When you see this playboy drive by, you'll notice colors like Octane Red, Frostbite, and Go Mango. Some of the colors are straight out of the 1970s, while others add some modern sophistication to your bad boy. Your Challenger starts out at 303 horsepower and comes with a Uconnect 4 7-inch touchscreen. Many people buy these vehicles for the pure mechanical design of them, not the tech, but tech never hurts, right?
The 2022 Challenger GT features performance steering and suspension systems on the RWD models. Other functional features that add to your fine form include a functional hood scoot and SRT front splitter. It might just look like a lot of style serving San Antonio New Braunfels Boerne Castroville, but there's a method to the Challenger's blazing fast style. You'll notice dual LED headlamps on each side of your intimidating blacked out grille, surrounded by lots of paint. Some models adjust their styles to "black out" features. The Challenger was born with this look.
R/T Trim
The Challenger R/T comes with a TREMEC six-speed manual transmission with an optional TorqueFlite 8-speed automatic transmission at your disposal. Choose wisely because it will really affect the way that you get to enjoy the 375 horsepower 5.7L HEMI V8 that comes standard on the R/T trim. Your seating is a lot more plush in an R/T also. Thanks to Houndstooth cloth seats with performance bolsters, you'll get a higher seating position that adds lots of comfort to your performance.
R/T Scat Pack Trim
The R/T Scat Pack takes no prisoners thanks to its 392 HEMI V8 engine with 485 horsepower and 475 lb-ft of torque. With a manual 6-speed transmission, you'll have hands-on shifting fun that transforms your entire driving experience with the Challenger. When you command the Challenger, it commands the roads. Line Lock and Launch control are standard on the R/T Scat Pack. It's also a major looker thanks to its 20-inch Low-Gloss Granite Crystal aluminum wheels.
SRT Hellcat Widebody Trim
If you want a thick, long, cool front-end, then the SRT Hellcat Widebody is here to please. The model's dual snorkel hood has a cold air intake that keeps your engine running cool even when the action gets hot. A Supercharged 6.2L HEMI SRT V8 engine steals the show and generates 717 horsepower and 656 lb-ft of torque. You'll also get a larger 8.4-inch touchscreen on your interior. Command your performance apps and ramp things up nicely. The true hallmark of the SRT Hellcat Widebody is its widebody fender flares.
SRT Super Stock Trim
The 807 horsepower Supercharged 6.2L HEMI High-Output SRT V8 engine is the star of the show on the SRT Super Stock. Few people are going to drive this one and hand it back over. It hits 131 MPH as calmly as a cruiser. And with 3.25 second 60 MPH time, you're going to leave a lot of the competition behind in the dust this year. Nothing on the road competes with this model.