New Ram Castroville Area 2021 Ram 1500 for Sale in San Antonio, TX
Castroville Area 2021 Ram 1500


View Inventory
The Ram series of trucks remain one of the most awe-inspiring spectacles of the automobile industry. Their craftsmanship, capability, and passion resonates with loyal buyers and curious onlookers alike. Few automobiles have changed the world quite like a Ram pickup truck. The new Ram 1500 promises to be the top of the mountain for the brand. They return with a more industrious RamBox cargo management system, stunning technology, and bold exterior design. Ancira Ram is certain that the 2021 Ram 1500 serving Castroville will completely change the way you interact with and enjoy pickup trucks.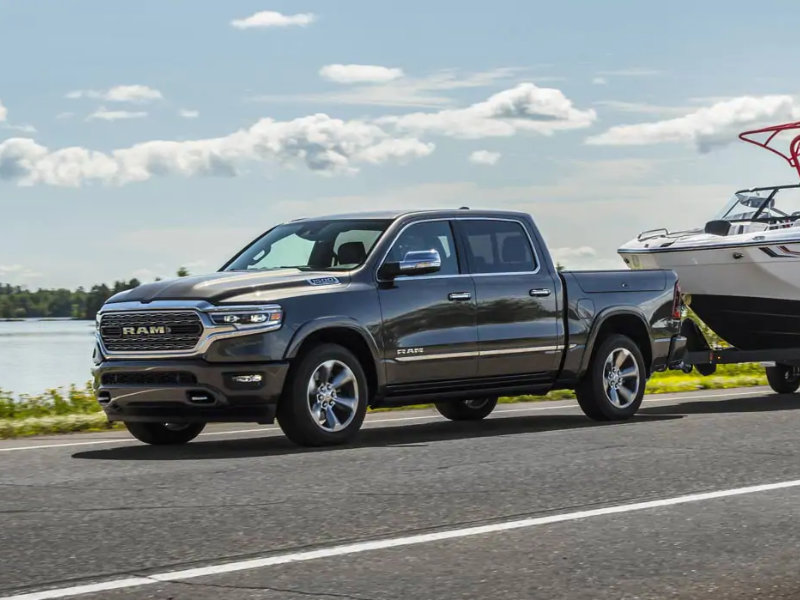 Exterior – Ram Dealer serving Castroville TX
The Ram 1500 is a bonanza of utility and handsomeness from grille to rear bumper. Its macho fenders and bodybuilder ripples will make you thankful you are one of the lucky ones who discovered it first. This one's a head-turner. Each area of the 1500 is serving Castroville Texas with an unexpected "above and beyond" feature. The deep RamBox Cargo Management System is your trusty luggage compartment, boasting massive space for all your work and play gear. A multifunction tailgate allows you to choose how you load and unload the truck. Whether it swings open or goes up and down with damping systems, you feel a smooth, cool progression forward. A new side step even helps you get at heavy and awkward cargo from comfortable angles.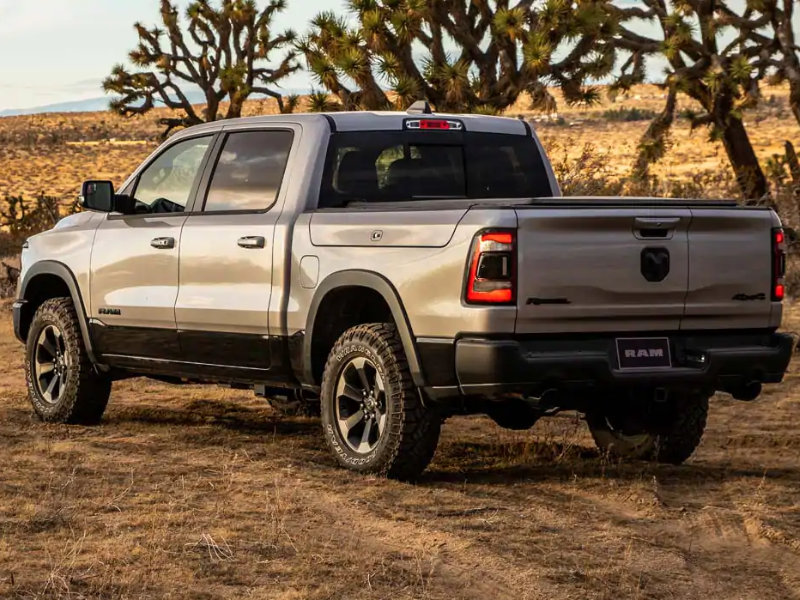 The exterior of the chiseled 2021 Ram 1500 serving Castroville is all macho. However, the interior has a soft, sensitive touch. Its genuine leather is something you can feel deep in your soul. Front bucket seats and authentic wood accents are carefully placed throughout the cabin to maximize the comfort of every rider. You'll also be amazed at the backseat of the model. Its reclining rear seats and hidden storage compartments are a delight for both comfort and utility. Your life needs to be organized. Whether you're at home, in an office, or on the go in your 1500, life needs to make sense. When you buy a 2021 Ram 1500, life makes ultimate sense. Its 12-inch touchscreen infotainment system is a pleasure to work with. It's a breeze to integrate your Apple CarPlay or Android Auto, and you'll have a terrific conversation with your Ram 1500 as well. This is a truck that is more of a business associate than a tool.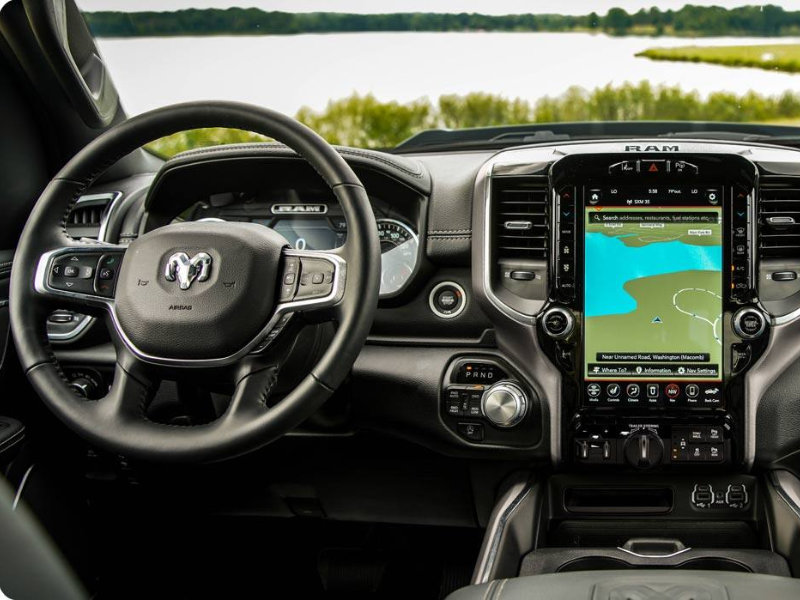 Ram 1500 Mechanical specs
With a towing capacity of up to 12,750 pounds, the Ram 1500 is equipped for utility and dependability. It's the truck you select when nothing but the most precise performance will do. It's bolstered by an 8-speed automatic transmission that goes the distance on any project. This is one of the reason that so many people are able to grab a 1500 for more than just the family. While it's ideal as a family truck, it's just as competent in the workforce, serving Castroville Texas Ancira Ram shoppers with something phenomenal.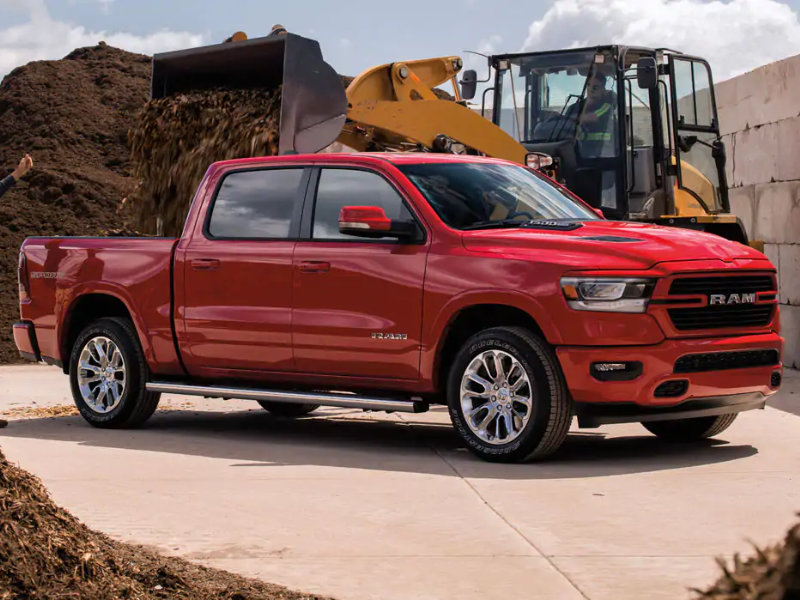 Powertrain – Ram Dealership near Castroville TX
The Ram 1500 has a horsepower range of 260 to 702 horsepower. This is a truck that was meant to wrestle with the elements and come out the victor at the end of each long, satisfying work day. For people who love to get things done, the Ram 1500 is one of the hardest working trucks in the business. It elevates its game when you need it the most. The TRX trim promises to be a truck of raw, brute strength, too. For avid off-roaders who've long dreamed of having a Ram truck for the trails, it's your next truck.
Safety – 2021 Ram 1500 dealer
Ram's driver-assist platform has only grown more powerful over the years. They dress the Ram 1500 is cameras and radars for a birds-eye view of every section of the road. Responsiveness is drastically improved with each new model year as well, so you can count on your 2021 1500 to anticipate dangerous road conditions and respond to them with a razor sharp wit. The truck itself boasts ultimate intelligence. For example, automatic emergency braking and lane keeping systems do two primary things: (1) monitor, and (2) respond. It's the response that prevents accidents, but the monitors must be delicately designed as well. Ram's engineering team only keeps getting better with the passing years. Practical safety is an impressive feat as well. They've given you things like voice recognition in the cabin so that you can stay squarely focused on the road and never remove your eyes from your surroundings. Call family and friends while focusing your hands on the wheel and your eyes on the road.
Are you excited about the new Ram 1500? Contact us about the model today to request information or a free test drive. We look forward to showing off the new 1500 to our loyal customers this year. Just call or write.