New Jeep New Braunfels Area 2021 Jeep Gladiator for Sale in San Antonio, TX
New Braunfels Area 2021 Jeep Gladiator


View Inventory
Vehicle Overview
The 2021 Jeep Gladiator will be the first Jeep model to come with a cargo bed. The 2021 Gladiator near New Braunfels Area is a mid-size pickup truck that comes as an upgrade of the popular Jeep Wrangler. It can tow up to 7760 pounds, which is significantly higher than any other SUV in its class. Contact Ancira Jeep for a Gladiator with a longer wheelbase that enhances ride comfort and quality. However, regular steering inputs may be required to prevent the Gladiator from straying on the highway. The Gladiator isn't as easy to maneuver as its SUV counterparts, including the smaller Wrangler. The 2021 Gladiator comes with a standard V-6 engine along with an optional 442 lb-ft torque diesel engine. The Gladiator's rugged persona and removable panels keep it ahead of its direct rivals. No significant changes are expected on the 2021 Gladiator lineup. However, the pickup will come with an optional diesel engine. Its 3.0-liter V-6 engine can produce substantial torque and develop 260 horsepower. Jeep hasn't published the Gladiator's EPA fuel economy and pricing figures, but the diesel model will likely be available in Rubicon, Overland, and Sport models.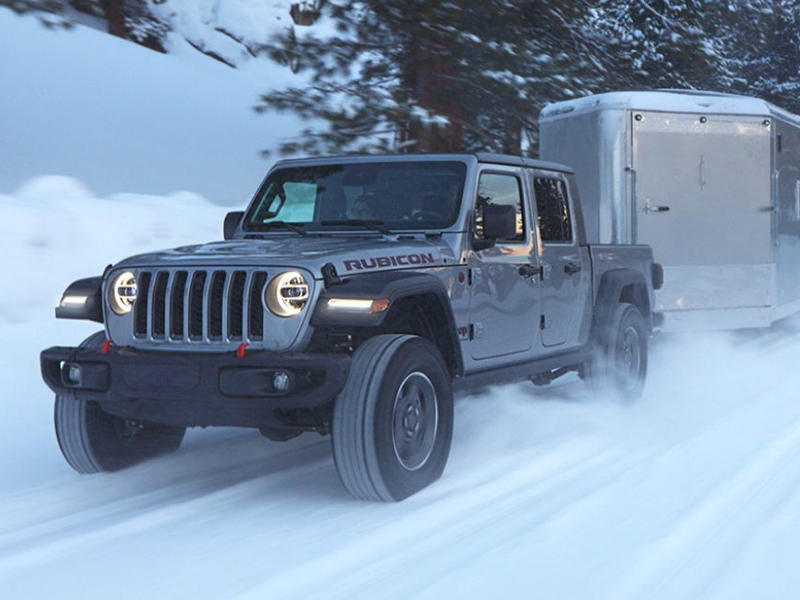 Exterior – 2021 Jeep Gladiator
Jeep Gladiator's Sport S model comes standard with a V-6 engine and manual transmission. It is available in flashy Hydro Blue paint, but higher trims can be available in optional color fenders. It comes with an anti-spin rear differential and all-terrain tires for ride comfort and improved traction. The 2021 Gladiator also features the headliner to contain noise and the larger 8.4-inch touchscreen, which is more sophisticated than the standard infotainment unit. Its temperature insulation ensures comfort during long trips. Its other features include an under-seat storage bin, a 225-bolt outlet, and a 400-watt power inverter. Also, its upgraded charging system and auxiliary switches add to the Jeep's confinement feeling.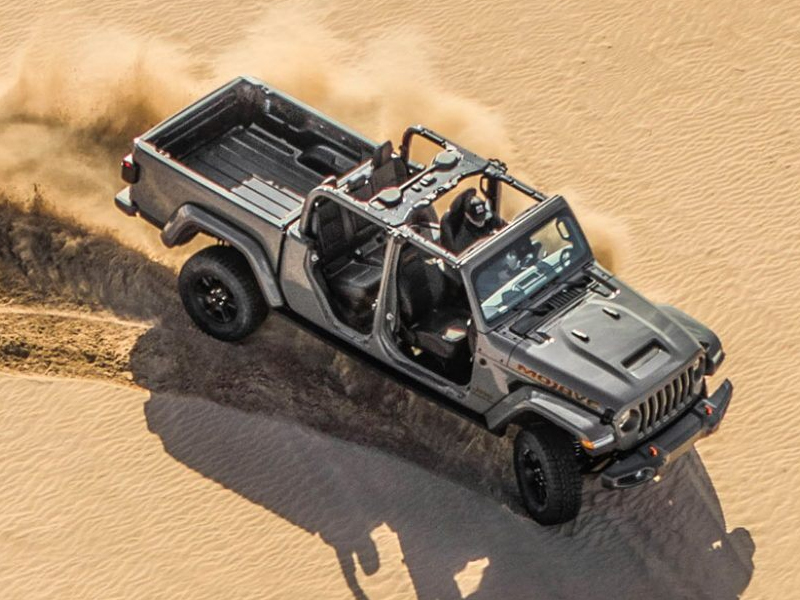 Interior – 2021 Jeep Gladiator near New Braunfels
The Jeep Gladiator interior features an upright dashboard with a user-friendly interface like that of the Wrangler. The higher trims come with a waterproof push-button and optional features such as heated front seats and heated steering wheel. Jeep Gladiator's stretched wheelbase increases its legroom. It also comes with a removable roof and body panels to create room for an open-air cabin. The pickup truck offers several storage options along with its spacious cargo bed. The Jeep Gladiator also has a handful of compartments hidden under the rear seat and several USB ports for charging devices. Its seats can be locked and stowed in multiple ways to create space for trail turns.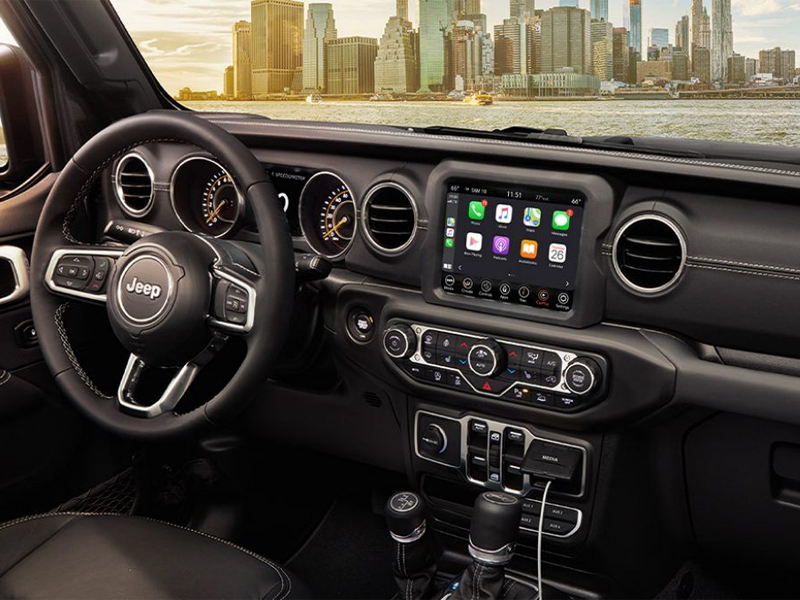 Mechanical – Jeep Gladiator specs near New Braunfels
The Gladiator has two separate fuel economy ratings from the EPA. The Gladiator models are equipped with a manual transmission at 23 mpg highway and 16 mpg city. On the other hand, the automatic transmission drops its highway mpg figures to 22 mpg while the city mpg estimates increase to 16 mpg. The Overland is the most fuel-efficient model in the Jeep Gladiator lineup. It can return up to 21 mpg on the highway, but higher trims such as the Mojave can return much lower mpg on the road. However, the Gladiator comes equipped with a higher rear axle ratio and bigger tires than its counterparts.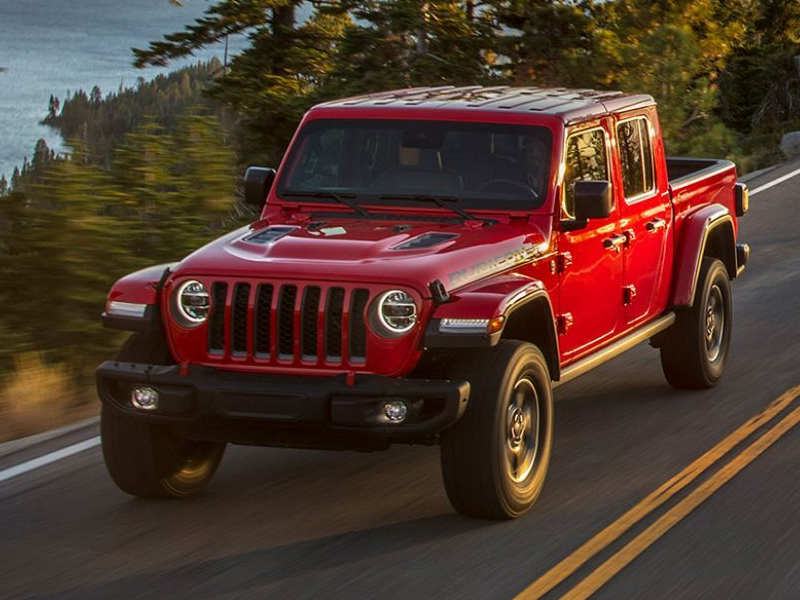 Powertrain – 2021 Jeep Gladiator dealer
The 2021 Gladiator runs on a 3.6-liter V-6 engine that can produce up to 260 lb-ft of torque and 285 horsepower. However, it can be routed through an optional eight-speed automatic transmission or a standard six-speed manual gearbox. A recent test showed that the Overland model could take up to 7.2 seconds to scoot to over 70mph, meaning it is slightly slower than most of its direct rivals. The Jeep Gladiator comes with an optional diesel engine that can produce up to 442 lb-ft of torque and 260 horsepower. The Gladiator features an extra 19.4 inches gap between the rear and front wheel for improved handling and rides. The Gladiator near New Braunfels Area feels much like the Jeep Wrangler, but its ride can feel uncomfortable on uneven surfaces. Also, its steering doesn't feel as precise as that of the Wrangler. Jeep Gladiator's unrivaled stability makes it an ideal trail-ready tool and a legitimate pickup truck. However, most Jeep Gladiator's enthusiasts only care about its towing and off-road capabilities. It comes with rock-crawling axle ratios and copious skid plates that can ford up to 10 cm of water. Its departure angle and higher ground clearance enable it to conquer any terrain.
Safety – 2021 Jeep Gladiator dealer
The NHTSA hasn't crash-tested the 2021 Jeep Gladiator, and neither has IIHS evaluated it. You can contact Ancira Jeep any day for a Gladiator with a range of safety features, such as driver-assistance technology. However, the Jeep Gladiator has a significantly smaller roster compared to its direct rivals. The Rubicon model features a front camera that helps when crawling over rocks and blazing trails. Its key safety features include a forward-collision system, parking sensors, and blind-spot monitoring. The Gladiator is also available with a warranty similar to its competitors, consisting of a three-year limited warranty, free maintenance for the first three years, and complimentary scheduled maintenance.