New Ram Ram 1500 vs Toyota Tundra Comparison for Sale in San Antonio, TX
Ram 1500 vs Toyota Tundra Comparison


View Inventory
The Ram 1500 needs no introduction. It is one of the most popular pickup trucks in America and continues to help set the standard for the class through a balanced approach. Few nameplates earn loyalty the way the 1500 does as well. People who choose the 1500 tend to make that choice again and again when it comes time to upgrade. But there are many drivers out there who are making that choice for the first time and comparing the 1500 to other trucks. Perhaps one of the more interesting comparisons is the Ram 1500 vs Toyota Tundra because Toyota takes a different approach than its American counterparts, such as what it emphasizes and the various options that it offers.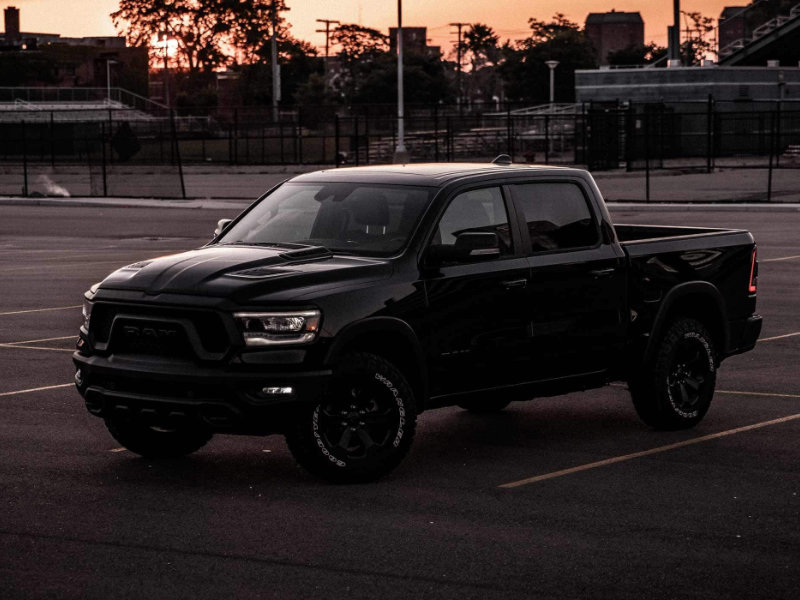 Exterior – Ram Dealer serving San Antonio TX
An important choice when selecting a pickup is the body style. Toyota offers two options whereas Ram offers three. In all cases, these are extended cabs, and you have your choice between either a double or a crew cab. Both crew cabs have four full-size doors. The Toyota crew is paired with a 5-foot-7-inch bed, and the Ram crew gives you the choice of either the smaller bed or 6-foot-4-inch bed. The Ram quad cab—the name Ram uses for its double—available in San Antonio Texas at Ancira Ram has four doors. The rear doors are smaller than the front but provide independent access. This cab is paired with the longer of the available beds. The Toyota double—which Toyota pairs with a 5-foot-6-inch bed—is different from the Ram and most full-size American pickups in that it has just two doors.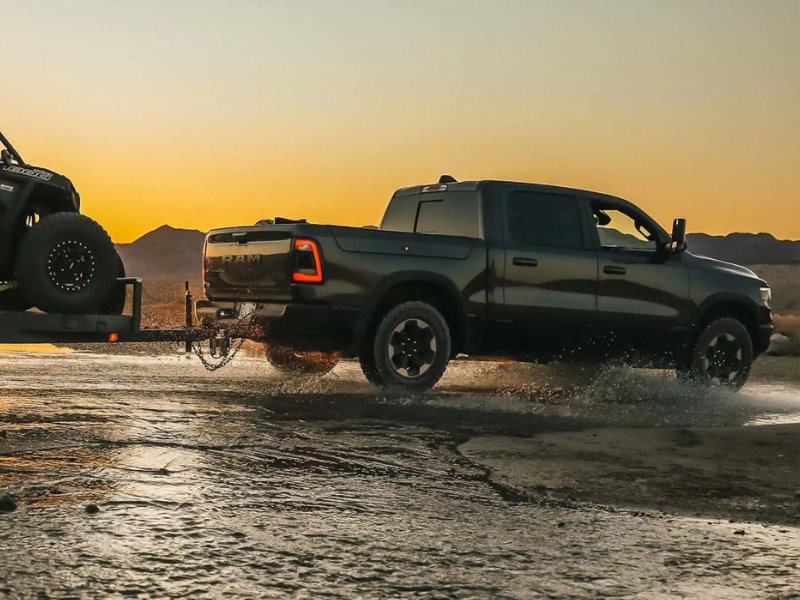 Another important choice when picking out a pickup is passenger seating and spaciousness, and you have both five-passenger and six-passenger options with both models depending on the trim level. An area where Ram excels is rear legroom. Its quad cab affords more than 35 inches, which is ample for most adults, and if you want more, the crew cab is very impressive at more than 45 inches. The Toyota Tundra is not as spacious as the Ram but still provides a good amount of rear legroom: 34 inches in the double and 42 inches in the crew. If you are considering the double and quad, be mindful that the Toyota double has just two doors, which makes that rear seating a lot less practical for adult passengers.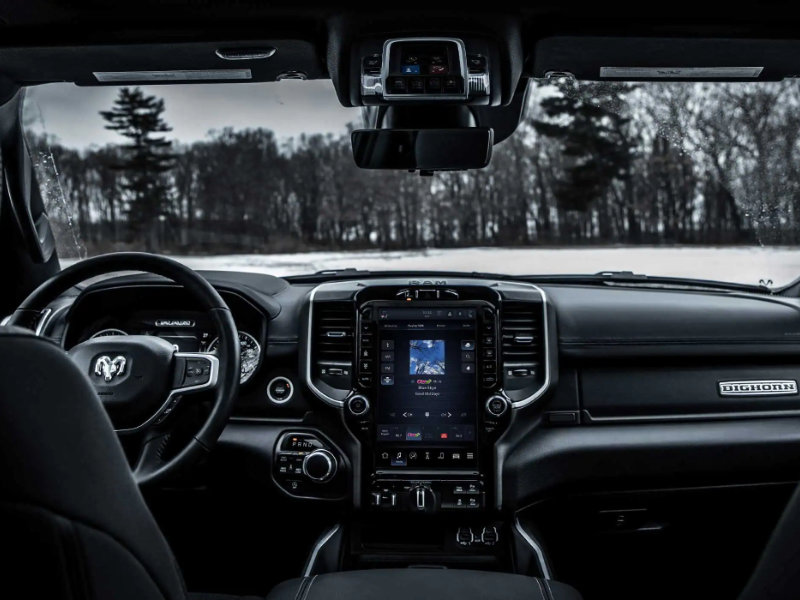 Powertrain – Ram Dealership in San Antonio TX
When it comes to the powertrain and other mechanical aspects, what jumps out in a Ram 1500 vs Toyota Tundra comparison is the choice that Ram offers. Both automakers do give you the choice of either rear-wheel or four-wheel drive. The Toyota Tundra has just one powertrain, however. It features a six-speed automatic transmission mated to a 381-horsepower V8 that makes 401 pound-feet of torque. Every 1500 comes with a much more sophisticated eight-speed automatic. The base powertrain is aimed at the average consumer. It has a 305-hp V6 that makes 269 lb.-ft. This delivers plenty of performance for most people, and the eTorque system gives you some of the best fuel performance in the class. If you prefer a V8, you have a 395-hp option that makes 410 lb.-ft., which can be selected either with or without eTorque. You also have the choice of a 260-hp turbo-diesel that makes 480 lb.-ft.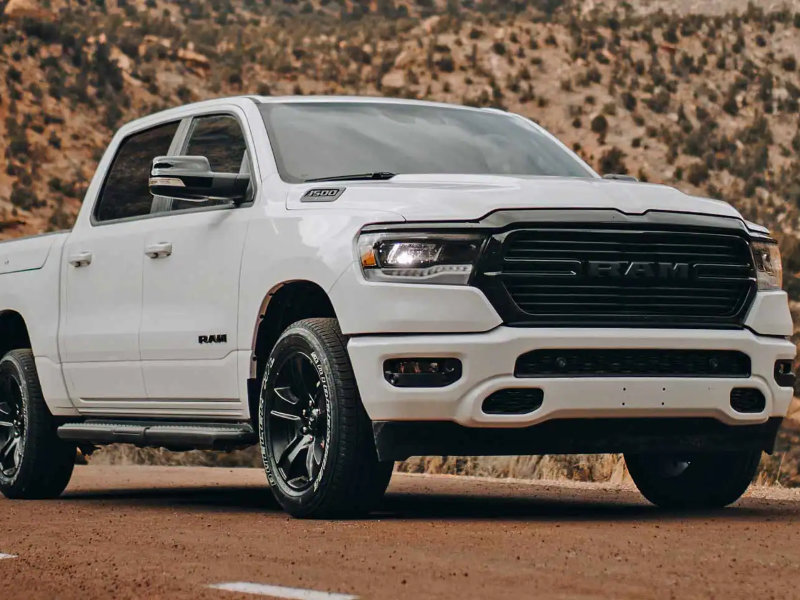 Technologies – 2022 Ram 1500 dealer
In terms of the base infotainment system, these trucks are similar on the surface: a 7-inch color HD touchscreen, a rearview camera system, Android and Apple device integration and so forth. But there are some big differences between Toyota's Entune software and Ram's Uconnect software, which is among the most awarded infotainment systems on the market. Another notable difference is options. Toyota lets you upgrade to an 8-inch touchscreen. Ram gives you the option of either an 8.4-inch or 12-inch touchscreen. Toyota does distinguish the Toyota Tundra from the Ram and most other American pickups available in San Antonio Texas with more standard driver-assistance features, but all of those technologies can be added to your 1500 if you want them.
If you would like to test-drive the Ram 1500 in San Antonio Texas, you can do so at Ancira Ram as soon as today. We have a wide selection of trucks covering all trim levels and options. No appointment is needed, but if you prefer to schedule, you can do so online or by phone. Custom quotes and other details are available via text and email. You can also shop with us online, and we have customer service specialists available via live chat to provide whatever assistance you may need.